Why you should consider using Surfshark VPN on Firestick
If you are looking for the best VPN for Firestick or searching for a new VPN to try, you should consider Surfshark VPN. This post explains why!
You guys all know, over the years, I've tried and tested many VPNs to use on the Amazon Firestick. And there is no real definition of the best VPN, as such. And that is because, what is best for me, might not be for you!
With that in mind, it is fair to say, the last few years, I may have been a bit biassed.
That's because, I've tended to stick to my guys and was slightly naive to lean towards the sole use of IPVanish as my daily driver, when it comes to VPNs on the Firestick, or when recommending a vpn for IPTV.
It's time for me to start offering a more broad approach, and review other options, like I did back when I started YouTube.
So, I thought I would look into Surfshark VPN, to find out if it is any good on Firestick, and more specifically, if Surfshark VPN could be used as a daily streaming VPN. It's fair to say, I was shocked.
In fact, I can't believe how many features Surfshark has, how good the technology is within the VPN itself, and how much value for money you get, for what is quite frankly, a very reasonable price, as a contender for the best VPN for Firestick.
Surfshark VPN features for Firestick
Surfshark is the perfect choice for the most demanding tech-savvy streamers. The VPN has quite clever, and advanced features like CleanWeb, a built in Kill Switch, Rotating IP option, Dynamic MultiHop, and Bypasser.
And another great thing is, if you want to configure your VPN manually, you can. Surfshark have manual connection options for all their protocols, including WireGuard®. It's the perfect choice for those who demand the best technological advantage when streaming.
This possibly makes Surfhark the best vpn for IPTV on Firestick.

Avoid travel restrictions
Keep your digital freedom while traveling to internet-restricted countries.

Use the internet uncensored
Get quick and secure access to blocked or censored material.

Access content safely
Get private & secure access to local content anywhere in the world.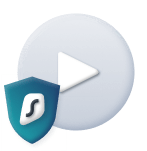 Stream privately
Watch content online without worrying about tracking or censorship.

Get secure IPTV access
Watch IPTV content securely without anyone spying on you.

Watch the big game
Watch sports online securely with no buffering or annoying pop-ups.
How does Surfshark compare to other streaming VPN's?
With so many choices of different VPN's to use for Firestick, here are some points that might help with some comparisons between other VPN services on the Firestick, including IPVanish and Nord VPN.
These comparison tables should help with any questions you might have.
Surfshark vs IPVanish on Firestick
Weighing up the pros and cons of Surfshark vs. IPVanish, Surfshark has more high-level security features and server locations. Surfshark also offers better speeds, pricing, and a transparent privacy and security policy.
| | Surfshark | IPVanish |
| --- | --- | --- |
| Devices | Unlimited | Unlimited |
| Servers | 3200+ servers in 100 countries | 1,900+ servers in 75+ different locations |
| Protocols | WireGuard, IKEv2, OpenVPN | WireGuard, IKEv2, OpenVPN, IPSec |
| Platforms and apps that run the VPN | Windows, macOS, iOS, Android, Fire TV, Linux, Chrome, Firefox, Edge, major gaming consoles | Windows, macOS, iOS, Android, Fire TV, Linux, Chrome |
| Price per month | $2.30 (2-year plan) | $3.33 (2-year plan) |
| 24/7 support | | |
| Independently audited | Browser extensions, server infrastructure, no-logging | No-logging |
Surfshark vs Nord VPN on Firestick
Comparing NordVPN vs. Surfshark, we must note that both VPN providers are among the best. However, Surfshark is the more affordable choice and provides unlimited simultaneous connections.
NordVPN and Surfshark are two of the best VPN service providers in the industry. Surfshark is the cheaper option and offers unlimited simultaneous connections. NordVPN has more servers and has a unique VPN protocol built around WireGuard.
Let's take a deeper look at what they offer and try to establish a distinction between the two.
| | Surfshark | NordVPN |
| --- | --- | --- |
| Devices | Unlimited | 6 |
| Server countries | 100 | 59 |
| No. of servers | 3200+ | 5000+ |
| Price | $2.49/mo | $3.99/mo |
| Protocols | WireGuard, OpenVPN, IKEv2 | WireGuard (NordLynx), OpenVPN, IKEv2 |
| Cookie pop-up blocker | | |
| Ad blocker | | |
| Independent audit | | |
| 10 Gbps servers | * | |
| 24/7 support | | |
| Money-back guarantee | 30 days | 30 days |
Surfshark vs ExpressVPN on Firestick
Putting Surfshark vs. ExpressVPN side by side, ExpressVPN provides slightly faster response times. Surfshark stands out with its user-friendly knowledge base, making navigating the app and searching for info easier.
| | | |
| --- | --- | --- |
| | Surfshark VPN | ExpressVPN |
| Devices | Unlimited | 5 |
| Server countries | 100 | 95 |
| Protocols | OpenVPN, IKEv2, WireGuard | OpenVPN, IKEv2, L2TP/IPsec, Lightway |
| Cookie pop-up blocker | | |
| Ad blocker | | |
| Independent audits | | |
| 10 Gbps servers | * | |
| 24/7 support | | |
| Price | $2.49 | $8.32 |
| Money-back guarantee | 30 days | 30 days |
In addition to all the standard features and benefits you typically find on most Firestick VPN's, Surfshark has other options and adding that are very useful, and help improve the overall protection to your data and streaming privacy.
You can also get Surfshark Antivirus, Surfshark Search, Surfshark Alert and Alternative ID in addition to the VPN service.
Unblock more streaming content with Surfshark on Firestick
Another reason why Surfshark is one of the best VPNs for Firestick, is because unlike other VPN services, including IPVanish, you can geo-unblock more content, on popular streaming apps, like BBC iPlayer etc, from more countries, around the world!
Surfshark have over 100 countries to choose from, all with very fast speeds, and dedicated RAM.
This makes it perfect for watching more of the content you love on the Amazon Firestick
Surfshark offers all essential VPN features, such as auto-connect, kill switch, split tunneling, & more. But we're not stopping here. We have something to make your time online even more comfortable
Surfshark VPN for Firestick price
Surfshark has a VERY reasonable price.
In comparison to other VPNs on Firestick, I think its fair to say, Surfshark definitely offers the most value for money!
Surfshark has a very affordable price bracket too.
The Firestick VPN comes in at £2.25/month, which includes all the features above, and a 30 day money back guarantee!
That means, if you are not happy with using Surfshark on the Firestick, you can bag your money back! Awesome!
Click here to claim 86% off Surfshark VPN, before the offer finishes! You also get 4 months extra, for free!
Surfshark VPN. The best VPN for Firestick? – Summary
So in summary, would I recommend Surfshark VPN? 100% yes!
First, here are 3 of the main reasons, as to why I think Surfshark could be the best VPN on the Amazon Firestick. Especially for streaming movies and IPTV.
Unlimited Device Connections: Surfshark offers the ability to connect an unlimited number of devices with a single subscription. This is particularly useful if you have multiple devices, such as Firestick, smartphones, tablets, and computers, that you want to protect with a VPN without paying for additional licenses.
Fast Servers: Surfshark VPN has a network of high-speed servers in various locations worldwide. When streaming movies or live TV, fast server connections are crucial to avoid buffering and ensure a smooth streaming experience. Make sure to check their server network for compatibility with your streaming services.
NoBorders Mode: Surfshark offers a feature called "NoBorders" mode that helps users bypass geo-restrictions and censorship. This can be especially useful for accessing content from different regions and streaming services that may be restricted in your area.
Surfshark VPN have unlimited connections, a kill switch, fast speeds, 100s of worldwide servers for unblocking more content, big benefits, additional features and all this for one of the cheapest vpn prices available for streaming VPNs.
Check out Surfshark VPN today and claim 86% off before the offer finishes!
Thanks for reading.