Get early access to IPVanish WireGuard protocol on Firestick
IPVanish are soon to release the new WireGuard protocol. Change this settings on the IPVanish app on Amazon Firesticks to get early access and faster speeds!
---
When it comes to using a VPN for streaming, especially on devices like the Amazon Firestick, it's all about speed….and privacy, ofcourse!
The new update that is coming to IPVanish will improve the way a VPN works on the Amazon Firestick (or Android TV boxes).
IPVanish Wireguard is the newest VPN protocol designed to be faster, stronger, and more lightweight than other connection types. As an open-source project, WireGuard remains under continued development, but it's already considered one of the most secure VPN solutions in the industry. At this present time, WireGuard is only available at IPVanish through our beta releases.
For those who want to try the new protocol, IPVanish are offering users to join the Beta program which will provide access to try the new and improved VPN connections.
Keep reading to learn more about the new IPVanish Wireguard Protocol.
Exclusive IPVanish WireGuard Discount
In preparation to the new and improved IPVanish speeds and lightweight, but stronger connection types, I am able to offer my readers an exclusive discount to the current IPVanish price.
Click here to claim IPVanish discount
Current IPVanish Protocols
In addition to the new WireGuard protocol, IPVanish currently offer a number of different protocols. You can learn more about each protocol below including what the benefits to each IPvanish protocols are.
IKEv2 (Internet Key Exchange Protocol Version 2)
IKEv2, a protocol made available exclusively through IPSec, is used to configure the security association, or the specific approach to how IP packets are encrypted over IPSec. While IKEv2 is only available in newer mobile devices, it is considered a more secure extension of the IPSec protocol because devices can switch between a Wi-Fi and cellular network without disrupting the VPN connection.
OpenVPN
Use this protocol whenever possible. Allows for multiple types of authentication methods, but ultimately uses SSL/TLS (similar to your web browser) for key exchange. While it typically offers faster access speeds than L2TP, it also requires a third-party software and certificate files to be installed in order to use it — unless, of course, you're using the IPVanish software. Also, support for mobile devices is limited.
TCP (Transmission Control Protocol)
OpenVPN over TCP is the most popular and reliable VPN connection type. It uses error correction to prevent the loss of information packets during data transfer. These lost packets would ultimately lead to failed websites and incomplete downloads if not for TCP's automatic retransmitting of them.
UDP (User Datagram Protocol)
OpenVPN over UDP is often faster than TCP due to having no error correction. While lost packets are inevitable using UDP, certain web technologies are better experienced this way, particularly VoIP and online gaming, where real-time interaction would be interrupted by old, retransmitted data.
L2TP (Layer 2 Tunneling Protocol)
L2TP is best for mobile devices that are not compatible with the OpenVPN protocol. While L2TP fixes the vulnerabilities in PPTP, it may result in slower speeds than OpenVPN. Also, because it uses multiple ports, it can be more difficult to configure on a router.
IPSec (Internet Protocol Security)
IPSec is a protocol suite that encrypts IP packets for transport and tunneling. Available for most mobile devices, IPsec protects all application traffic over an IP network. But unlike OpenVPN, PPTP and other connection types, IPSec does not define a particular encryption algorithm or an authentication function in and of itself — it simply provides a framework for secure transport.
PPTP (Point-to-Point Tunneling Protocol)
While PPTP is typically used on older operating systems and dated mobile devices, it is the protocol that is most likely to work when the rest are failing. Because of many known security vulnerabilities, however, PPTP is only recommended as a last-resort for low-risk speed-intensive browsing, like streaming video.
---
WireGuard VPN Protocol Benefits
The immediate improvement you're most likely to notice with the WireGuard VPN protocol is the faster connection, but there are also technical advancements of this new protocol worth noting.
Security
Open-source, security-first protocol that uses modern cryptography implemented in a safer, and more efficient way than other connection types.
Stability
Stays connected in poor connection quality situations where other VPN protocols would falter, even switching from a mobile network to Wi-Fi.
Simplicity
Shorter code base lowers power consumption and creates a smaller attack surface, making it easier to audit for vulnerabilities.
Speed
Engineering optimizations to both the code and cryptographic implementation have made WireGuard 3x faster than IKEv2 and 10x faster than OpenVPN
VPN
Internet traffic encryption & anonymous IP addresses to safely access online media from anywhere. Learn More
---
How to join IPVanish Beta access to WireGuard
The easiest way to join the IPVanish Beta program is via the windows app.
First, you will need an IPVanish active subscription. I have covered many posts and video's which explain why it is a suitable VPN for streaming devices like Amazon Firestick or Android TV boxes.
Step 1 – Create an IPVanish account and subscribe to your preferred subscription. – Sign up to IPVanish with the current offer
Step 2 – Login to IPVanish website and download the IPVanish app for windows. To download IPVanish on Amazon Firestick or Android TV box you can use my FileSynced code '55555555' – Learn how to download FileSynced here.
Step 3 – Open the IPVanish app and login with the credentials created in step 1.
Step 4 – Click the General tab and scroll to the bottom of the page. Click the 'Opt in to IPVanish Beta' program.
Setup IPVanish WireGuard Beta on Amazon Firestick
1. Install the Downloader app from your respective App Store (Amazon App Store or Google Play) and enable Unknown Sources within the settings of your streaming device.
Credits to Troypoint.com for the tutorial.
If you haven't done this yet please refer to the following screenshot tutorial for step-by-step instructions.
Install Downloader app and ensure 'Install from Unknown Sources' is enabled.
2. Launch Downloader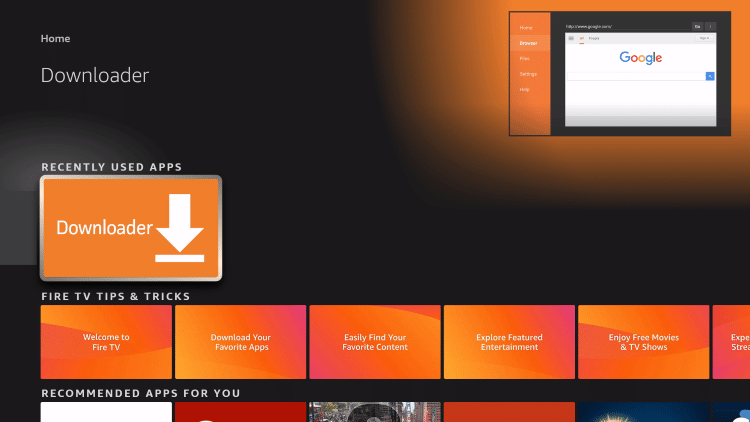 3. If prompted, click Allow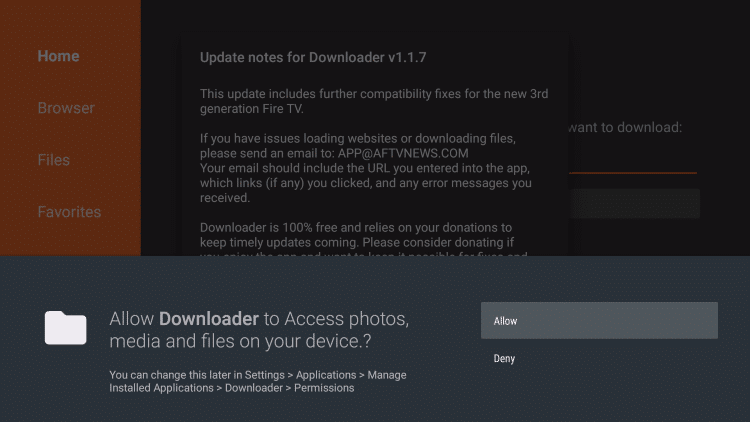 4. Click OK for developer notes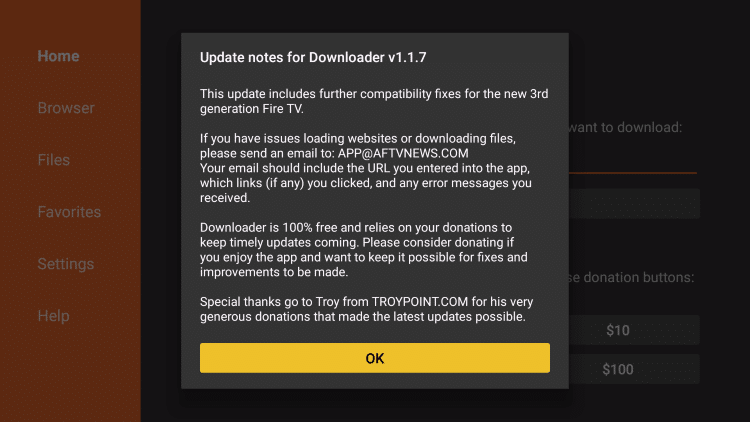 5. Click the URL box on the Home screen of Downloader app.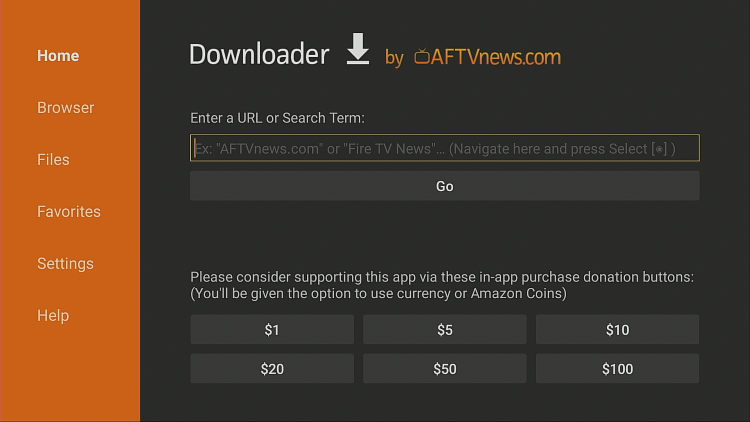 6. Type in troypoint.com/iptvbeta and click the Go button.
7. Click Install.
8. Click Done.
9. Click Delete.
10. Click Delete again.
11. Go back to home screen of Fire TV Stick or Android TV Box and click the shortcut that will take you to the page that displays all apps.
12. Launch IPVanish VPN.
13. Input your IPVanish VPN Username and Password then click Log In.
14. Click Settings icon in top right corner.
15. Click VPN Protocol.
16. Choose WireGuard Beta.